With over 400million users and counting, Instagram is definitely a social network that should be at the core of your social strategy as an influencer/blogger. Recent stats show that Instagram averages 58 times better engagement per follower that Facebook and 120 times better than Twitter. There are also more and more brands joining the Insagram bandwagon and over 85% of top brands are already on it.
It's time to take you 'Instagraming' to the next level. In this post we will look at 7 tools that will help you do just that. Don't worry, these tools are all free and will help you analyse your account, manage it effectively, create quality and engaging content.
A great tool (free trial, then $54 per year) that allows you to monitor as well as manage Instagram activity. Key metrics are nicely displayed in one dashboard and you can easily spot where to improve and what to focus on.
Number of followers, posts and following.
Engagement rates – love, talk and spread rates.
Specific comparative growth statistics.
It also offers some interesting and in-depth stats such as;
Hashtag impact – tags vs trending hashtags on Instagram.
Photo filter impact – which filters brings you the most comments/likes.
Specific hashtag performance.
Source of likes and comments.
Iconsquare is definitely a go-to Instagram analytics tool and I highly recommend using it to start tracking your efforts. It offers a few extra handy functions such as RRS feed of you posts, Snapshots to share with your IG community, profile cover generator and lot more. So go and explore.
Although Minter is a paid tool you can use it for free for 6 days. I would highly recommend going for the free trial as this tool will give you comprehensive insights into your Instagram efforts.
Audience insight will help you get to know your fans and community. You will get data such as gender, top locations and countries and you will be also able to identify top followers and unfollowers.
Competitor analysis – In this case I would call you a 'Your Instagram Hero Analysis'. If there is someone you like and has a huge following you can check him/her so you can learn a thing or two.
Reports – Like reports? Minter will let you download the full account report in PDF or Power Point.
Engagement –This section gives you insights into your engagement statistics including where your engagement comes from
Optimisation – My favourite feature. This is the section where it gets all real. Find out when is the best time for you to post, what type of post, photo filter and hashtags to use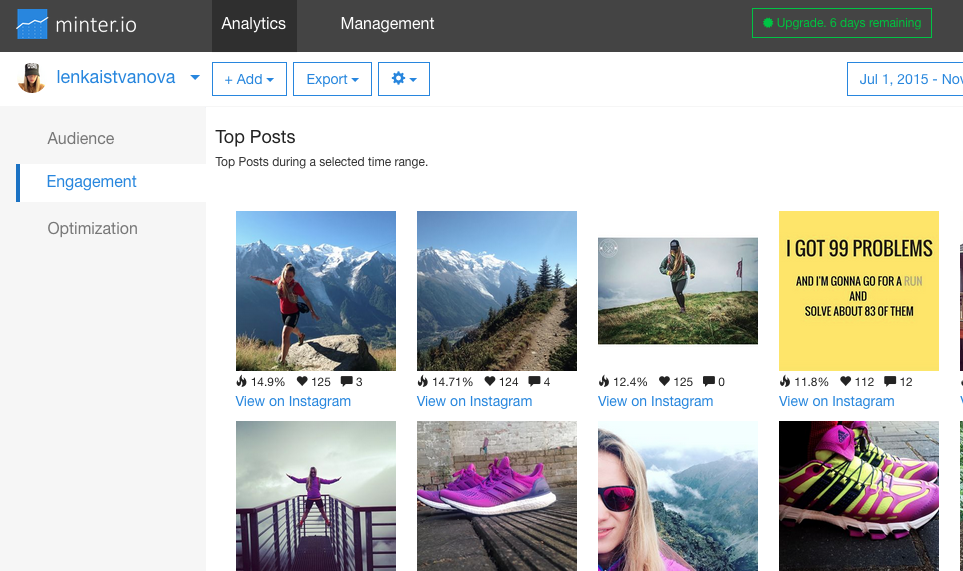 Picstats is an Instagram tool setup by one of our favourite social media gurus and scientists, Dan Zarella. The best thing about this tool is that it allows you to run a quick and free overview of any Instagram account. Or, what about having a closer look at some of the brands you would like to work with…

The key features of this platform will enable you to;
Understand what content your fans are most engaged with
Benchmark Instagram activity against your 'Instagram Hero'
Find your top fans (top likers and top commenters) so you can further engage with them
Identify the times you get most interactions so you can determine what content and hashtags to use in the future
Ink361 is a great tool to manage your Instagram account. On top of that, you can also get a quick overview of the key metrics including your Love and Talk rates. Within the platform you can do everything you do within Instagram plus a lot more!
Trending Hashtags feature;
The features I like the most are Circles and Albums.
Circles is a very handy addition, if you know and use Twitter Lists this is basically the same just for Instagram users. Here you can group users (add them to a circle) based on your preferences (e.g. brands, interesting accounts, etc) and see their activity.
In addition, you can create albums of your shared posts and share them with people with no Instagram account. This is not only valuable for your parents but also for brands – perhaps you can create an album to showcase your most engaging post


Whilst focussing on engagement and creating quality content instead of tracking followers and unfollowers, this app can be a useful check-up on the success of your growth strategy.

With Crowdfire app you can manage your fans and see;
everyone who follows you
inactive followers
people who don't follow you back
those who followed and unfollowed you recently.
You will also be able to whitelist or backlist some users.Easy scheduling and posting is also part of this app, however (like Later) you will need to download the app on your phone first. This app will also suggest the best time to post and what hashtags to use to further increase your post reach, which is quite handy.
You can use the app for free or sign up for a premium account ($9.99 per moth) and enjoy extra features and no limitations.
Been wondering how to easily create those big images (multiple-photo grid) on Instagram? Of course you can use Adobe Photoshop, Illustrator etc. but if you don't have the time, this mobile app will do that for you. With the Giant Square app you will be able to segment a single image into several parts and post them in the right order.
Want to embed a specific Instagram photo gallery in your blog? With SnapWidget you can display an Instagram photo for a specific username or even a hashtag. This hashtag feature can be very handy especially when you want brands to see only photos for a specific campaign/project you were involved in.
There are also different ways you can display the Instagram gallery;
Map
Slideshow
Scrolling
Board
Grid
---
Influencers on the Freestak platform have access to a series of hints and tips helping them excel at digital marketing and campaign management.
To find out more, contact our Community Manager, Lenka.