7 Ideas for Creating Innovative Content during COVID-19
Have you been struggling with your creativity lately? With lockdowns, travel bans and worldwide restrictions preventing us from going about our normal fitness routines, many content creators have found it difficult to come up with new and innovative ideas to keep their audience engaged.
In a survey to the Freestak community conducted last month, we found that 62% of content creators are posting less content due to societal effects of COVID-19.
To help inspire your creativity, we've put together some examples of great content and challenges from athletes and creators around the world to stimulate ideas for your next post.
Virtual challenges
"In a crisis, people need a leader," Dr. Ruth Allen said in our recent virtual mindfulness session. Now is the time to be that leader. Think outside the box to discover new and exciting ways to engage and challenge your audience.
Virtual expedition to Everest Base – @rorysouthworth
Rory Southworth created a group challenge with about 30 climbers to embark on a virtual expedition to Everest base camp. Using stairs, steps, or anything necessary to reach the daily required height, the team climbed an altitude of 5,364 metres in five days.
The ultrarunning community was inspired with a new type of challenge: a virtual last-person-standing race that had athletes running in self-isolation for as long as possible.
Runners were to complete a required set of mileage each hour either outside in isolation or indoors on a treadmill and upload loops to Strava. Zoom was used to keep in touch with race organizers and stream runs.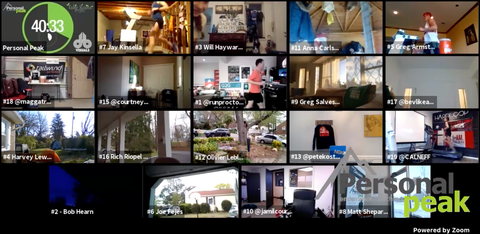 After nearly 63 hours and 262 miles Michael Wardian became the champion and last runner standing.
At home adventures
We may not be able to travel or go on the outdoor adventures planned for these current months, but that hasn't stopped creative thinkers from developing unique content at home.
Self 'Ice-olation' – @gillymcarthur
Fancy an ice swim? With her gear on and bag packed, follow Gilly's "outdoor" adventure as she searches for an icy lake, or rather, bathtub.
Kitchen Expedition – @matt_kettlewell
As Matt Kettlewell lugs up his kit from the kitchen floor, he sets up basecamp just behind the fruit bowl to begin the world's first expedition to circumnavigate the kitchen. View the full kitchen expedition and creativity in all its glory on his feed.
Imaginative filmmaking
For those who have a skill in filmmaking, now is your chance to stand out. A ski bum away from the mountains and a decathlete stuck indoors both got creative by developing stop motion films of their sport inside. Have a look at the videos below.
Freeride at Home by @philippklein
Decathlon in a room by @simo_cairoli
Creative home workout challenges & training
We've seen some great WOD (workout of the day) posts and indoor training tips which are wonderful for encouraging others to stay active. However, in order to prevent your content from being lost in the mix, create unique workouts or challenges that catch the eye of your followers.
Innovative training – @sara_grip
Attention all climbers, no need for the outdoors or a climbing wall when all you need is a stable kitchen table to keep up with your training.
Dog Challenge – @runwithurdog
Andreea created a new type of challenge for her followers that consisted of workout challenges with your dog as well as yoga, or as she calls it, doga. She posted some great inspiration on her feed and showed encouragement by reposting others' #dogchallenge workouts on her stories.
Educational videos
With at home training continuing, followers are still in need of new information and helpful advice regarding workout kit.
Trainer Tuesday – @emmakirkyo
Emma has done a great job at implementing 'Trainer Tuesday' as a way to inform her audience about new Under Armour gear and provide useful tips. Videos include shoe reviews, learning the life span of your running shoes, footwear advice, and more.
Podcasts
A great way to talk to your audience and keep them engaged with new and relevant content is through podcasts. Talk with guests about the current struggles and provide inspiration for staying active.
The Curious Climber Podcast by @hazel_findlay
In the Curious Climber Podcast, Hazel used this as an opportunity to discuss the science of COVID-19, what makes it different and what the global pandemic means for climbers.
Keep Running Podcast by @armana_rai and @rachel__stringer
Keep Running Podcast, presented by ex-international runner Rachel Stringer and running influencer Armana Rai, shares their experiences, discussions with inspiring runners, and motivation for your next run.
Additional podcasts from the Freestak community:
Positivity and encouragement
Our survey to the community also found that 80% of respondents are providing more positivity throughout their content as a way to stay creative and motivate followers. Whether through inspirational messages or team encouragement, many content creators are helping to keep spirits lifted.
Have you done something creative lately with your content or activities? If so, we'd love to share it with the community! Send any inspirational posts or links to laura@freestak.com.